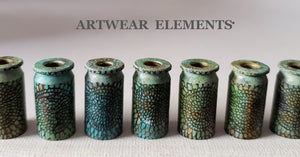 Just what the Doctor ordered! Primitive, Yummy, Crusty, Colorful, Artsy, Mixed Art Shell Bead Caps for your tassels and other creations, sealed.
Primitive Art Shell Bead Caps
Vintage Sunflower
~~~~~~~~~~~~~~
Art on a brass canvas!
Sold Per Set Of 2, and 5
Made To Order
Size Large .45
..............................................
Size Large .45 length: approximately 22.5mm x 11mm W / Pack of 5 (Great for any size tassels but especially 7").
***PLEASE READ THIS ITEM DESCRIPTION CAREFULLY BEFORE PURCHASING.***
Hand oxidized and sealed with a matte finish; best to avoid moisture for long term care since they are metal, and to not possibly ruin the patina design.
This shop provides smaller qty's of product for your convenience.
Price includes labor, processing, inventory, packaging...
There's more labor involved in making these.
They are not supposed to look perfect, they are supposed to look yummy, rustic and artsy.
Since they are handmade patina with vary, some darker, some lighter, some more colorful some not as much; it depends on the processing. If you have a special request or need please contact me before purchase.
Colors vary; some more colorful than others. Finish is determined by the processing; this is not an exact science; no two are alike.
****Please also note that every monitor and lighting is slightly different. 'Exact' color cannot be guaranteed. However, I have made every effort to get as close to the original color as possible.
If you have questions please ask.
IMPORTANT PLEASE READ
All content in this shop, unless otherwise credited, is original content of Artwear Elements® and is a registered US Trademark. Including all artistic content and jewelry designs 2020. NOT for resale! You can use them in your creations but these are not for resale as is.
Please do not state you are the maker.
All rights reserved!
Thank you!
Primitive Bead Caps, Vintage Sunflower, Art Beads, .45, Tassel Bead Caps, ArtWear Elements