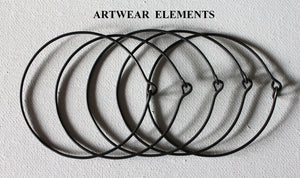 ARTWEAR ELEMENTS® Blank Hoop Wire Forms!
Sold in sets of five.
Choose what size and color blank hoop forms from the drop boxes.
You will receive forms just like those in the photos, in black or plain silver galvanized steel.
Your choice from the drop box.
The measuring, cutting, bending, de-burring, forming, sealing... has all been done for you!
(You are paying for the wire, wear on my tools, sealant, and my labor.)
PLEASE NOTE: Shipping time varies depending on the qty ordered.
Dropbox Options:
Extra Small 2"
Small/Medium 2.5"
Standard Medium 2.3/4"
Large 3"
Use the sari silk ribbon I sell and make yourself a set of handmade bangles or hoops, or as a gift for someone special!
Blank Hoop Wire Forms, Bangle Sets, Bangle Forms, Wire, Wire Hoops, Artwear Elements®
They look great mixed and matched, with or without dangles.
Steel is an easy Eco Conscious metal to enjoy and wear.
Lead free, steel is one of the least allergenic metals made
up of iron with up to 2% carbon; straight from the periodic table!
Sealed.
All content in this shop, unless otherwise credited, is original content of Artwear Elements® and is a registered US Trademark. Including all artistic content and jewelry designs 2022.
NOT for resale. You can use this in your creations, but this is not for resale 'as is'.
Please do not state you are the maker.
All rights reserved!
Thank you!