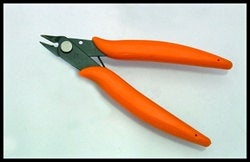 Flush Cutter
These are great around the house, or great for work. They bur ends, wire, and plastic.

Extra-long jaws for optimal control and special bending. Superb PVC Handles for a firm grip and total control. Choice Carbon Steel. Spring-Action.
Photo is for display only.
• Length: 5"
• 48 HRC Hardness
• Cuts Wire up to 1mm Copper and Other Soft Wires. I designate 'one' of these just for 18ga dead soft wire. Not recommended for 16ga.
• Comfort Soft Grip Handle
• Steel Return Spring Increases Comfort During Repetitive Cutting
• Used for Cutting Wires, Jewelry Making, Metal Working, a nice Cutter!
Keep away from young children.
Flush Cutter Pliers, Metal Working, Craft Tools, Wire Cutter, Jewelry Tools, Artwear Elements